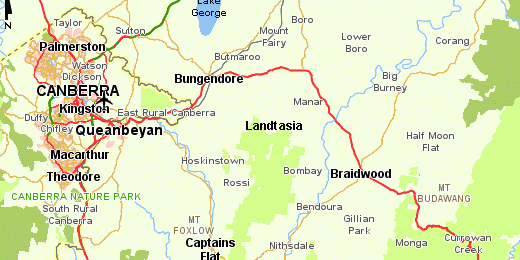 Landtasia Farm and Sanctuary is located in the Southern Tablelands of New South Wales mid way between Bungendore and Braidwood. Please note Landtasia is a working farm and visits are by appointment only.
We are open for compost sales on Thursdays and most Wednesdays from 9:00am – 3:00pm and the first Saturday morning on the month, 9:00am – 12:00noon. 
The composting facility  is located 18km east of Bungendore on the Kings Highway.   
For compost inquiries, please contact Simone on the email or mobile number below.
To Contact Us:
Landtasia Organic Farms Pty Ltd
ABN:
71 101 780 607
Phone: 
(61) 02 6238-0565
E-mail:
 compost@landtasia.com
Postal: 
PO Box 116, Bungendore NSW 2621, Australia
Composting Facility:
8884 Kings Highway, Mulloon, NSW 2621